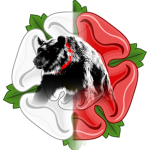 After three years away, the Tewkesbury Medieval Festival was finally back, running across the weekend of the 9th-10th July. We were back too! With a boot full of (horse) skulls, posters and horsey bits and bobs we headed up to Tewkesbury on the Saturday morning to present our research to the re-enactors and visitors of Europe's largest medieval re-enactment event.
Tewkesbury is a beautiful place, and well worth a visit, especially the abbey which is a stone's throw away from the field where the Battle of Tewkesbury took place. The space is serene now, but was not so in the aftermath of the battle in 1471 in which so much blood was spilt within the abbey's walls that it required reconsecrating. Today, it contains the tombs of many notable medieval people including George, Duke of Clarence (brother of Edward IV), Eleanor de Clare, Hugh Despenser the Younger, and many other earls and knights (though sadly with no images of their warhorses that we could find)!
As usual, it was sweltering the entire weekend, but that did not seem to stop anyone from attending the festivities and market. Luckily, we had a stall in one of the marquees and could escape the sun, if not the heat. Many people stopped by to learn about medieval horses and their use in warfare, and some even remembered us from our very first and much smaller appearance pre-pandemic! 
Outside the marquee we unveiled our new poster which invited people to guess the height of a medieval warhorse. The craft corner was a favourite with the younger ones, who replicated harness pendants with great enthusiasm, and many a visitor was fascinated to hear about the research our project has undertaken, from both a material and historical perspective. Our two lovely mares turned many heads and patiently helped visitors discover their species' secrets. Seeing their live counterparts fully caparisoned during the re-enactment of the battle was a wondrous sight to behold. 
If you are curious to find out what sort of things were fed to warhorses in the Middle Ages, have a look at our flyer from the event and see how many you can get right (the answers are at the bottom – we won't tell anyone if you sneak a glance)!
We chatted with many lovely people over the weekend, from interested members of the public to keen equestrians and (former) professional jousters. We also had the chance to meet Zac Evans, modern jouster and YouTuber, and filmed a short reel with him discussing our project and popular misconceptions about medieval warhorses. You can see the video here.
All in all, it was a fantastic weekend outing and a delight to see so much interest in our work. We plan on a few more of these events in the future so watch out for news on our Twitter feed and website.
Some impressions of the weekend: