I am Kate Kanne, a new postdoctoral research fellow for the Warhorse Project. Outside of Warhorse, my research is on early equestrianism in the European Bronze Age, and on the long-term evolution of human-horse relationships. I am thrilled to be joining this exceptional interdisciplinary team, and learning cutting-edge methods in horse archaeology to tell the story of people and horses through time. One of my first outings as a team member, was with Warhorse PhDs, Helene Benkert and Camille Mai Lan Vo Van Qui to the Dartmoor pony auction in Chagford. We were curious how these ponies were managed on these local landscapes, and how their long presence related to medieval warhorses.
Horses, and in this case proper ponies, carry in their DNA and life histories fascinating stories of human and horse history. I had never guessed when considering the Dartmoor ponies, that their story would contain everything from ancient and medieval horses, the birth of the modern polo pony, contemporary human-horse relationships, and efforts at maintaining biodiversity for the future.
A family vacation to Devon in my adolescence gave me my first wondrous experience of horses in this incredible landscape, riding at full gallop on the moors with great glee. From these memories, when going to this year's 'drift' Dartmoor pony auction at Chagford, I had expected to see a sea of dark bay/brown ponies of relatively similar stature. I couldn't have been more wrong! I confused them with Exmoor ponies who are bay, brown on dun, with black points. Welcomed by a cacophony of coat colours, and a wide variety of sizes from wee to stout, the Dartmoor ponies reflect their long history, as well as the human proclivity for valuing eye-catching coat colours, those of which also bring a higher auction premium (Figures 1, 2, & 3).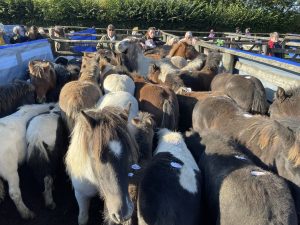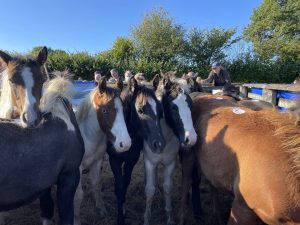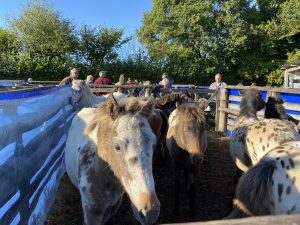 Figures 1. 2. & 3. Colourful Dartmoor Ponies at the Chagford Pony Auction (Figure 1 & 2 photos by Helene Benkert).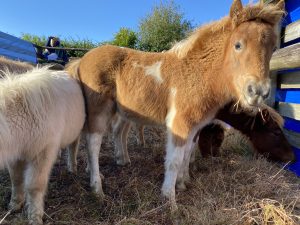 Figure 4. Wee Dartmoor Pony at the Chagford Pony Auction.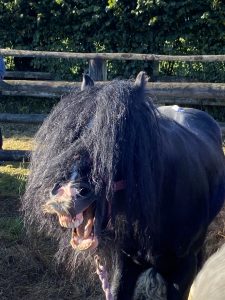 Figure 5. Black Dartmoor Pony Stallion with Moustache!
I was also surprised to learn that the herds of free-roaming ponies are all owned, with the owners (Registered Commoners) allowed to graze their herds on the Commons (Figure 6).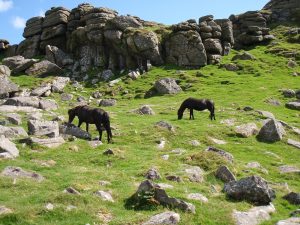 Figure 6. Ponies grazing on Dartmoor Commons (Wikimedia Commons, Andrew Rendell CC-BY-2.0))
For those less familiar with British law, Common Land is privately owned with 'Rights of Common' for land used most often to graze livestock. Enshrined in the Charter of the Forest in 1217, in pushback against rights of access to the royal forest for free men eroded by William the Conqueror and his heirs, the Commons were designed to sustain poor rural farmers who did not own their own land with access to pasture, wood, and other resources. Now, over one-third of England's moorland is common land, 3% of land in England, and includes famous landscapes in Dartmoor National Park, the Lake District, Yorkshire Dales and Shropshire Hills (Dartmoor Commoners' Council) (Figure 7).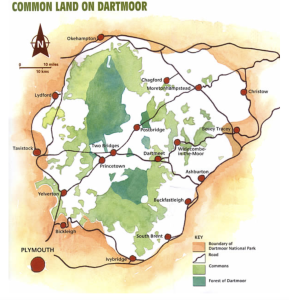 Figure 7. Common land on Dartmoor National Park (Dartmoor Commoners' Council).
From the Dartmoor Hill Pony Owner's Club, we learn that, "A Dartmoor Hill Pony is one bred on the Commons of Dartmoor by a Registered Commoner, whose sire and dam run on the said commons. This ensures that the sire has been inspected and approved by the Dartmoor Commoners Council as a suitable stallion to run on the Commons". Current estimates suggest there are around 1100 mares producing roughly 900 foals per year. The ponies are rounded up from the multiple Commons in Dartmoor annually in October. They are then counted, checked, with some sold at the traditional pony Drift Sale in Chagford, Devon, held by the Dartmoor Hill Pony Association, with volunteers of Friends of the Dartmoor Hill Pony charity, overseen by Moorgate Vets, and facilitated by Rendells Auctioneers (Fig. 8).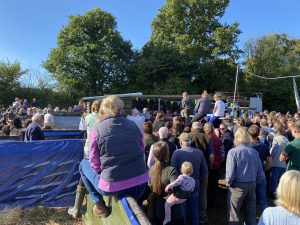 Figure 8. Chagford Drift Pony Auction.
The drift auction originally was a method by which illegally grazing or unowned animals would be auctioned in the Forest of Dartmoor. Now it serves to keep the ponies at a manageable number for their owners and the moors, and provides farmers with an additional form of income. The value of the Dartmoor ponies lies in their use as excellent, sure-footed, and hardy riding or driving ponies, as well as a keystone conservation management species (Figure 9).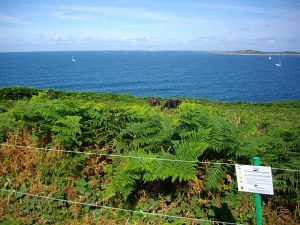 Figure 9. Dartmoor ponies conservation grazing at The Garrison, St. Mary's. They were introduced to to restore Scilly's maritime heathland (Bob Embleton / Conservation Grazing The Garrison, St. Mary's / CC BY-SA 2.0)
The Dartmoor ponies represent the decedents of the earliest domesticated horses in England, attested to from the Bronze Age (Bendrey 2012) (Fig. 10).

Figure 10. Ponies on Dartmoor at a Bronze Age archaeological site (© Charlotte Faulkner in Packham 2020).
At Shaugh Prior in South Dartmoor, pony hoof prints were found in association with cattle and sheep hoof prints, dated to the Bronze Age, approximately 1500-1350 BC (Fig. 11).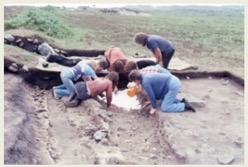 Figure 11. Pony, sheep, and cattle hoofprints under excavation on Shaugh Prior (© Ossiie Palmer in Packham 2020).
Many different types of horses were brought to the British Isles in subsequent periods, breeding with the initial stock that became supremely adapted to life on the moors. Horses became increasingly important for battle in the Iron Age and Roman period as mounts, and famously as chariot horses. The quality of these smaller ponies was noticed by the Romans, who took them back to Italy to improve their native stock (Trew 1953). Ponies are well known archaeologically throughout the Early Middle Ages, into the Late Anglo-Saxon / Early Tudor period of the Warhorse project and beyond. Withers height indicates that horses from the Saxon and Norman periods (5th–12th centuries) were ponies by modern standards, less than 14.2 hh or 1.48 m, generally averaging 12.3-13.2 hh (Ameen et al. 2021).
The first historical record of herds of free-roaming ponies in England is from the will of the Merican thane Wulfric, who in 1002 decreed "'…I leave to the monastery at Burton one hundred wild horses and sixteen broken stallions…" (Dent and Goodall 1968:53) (Figure 12).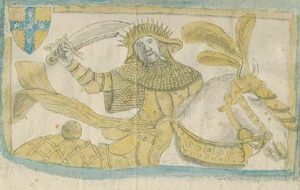 Figure 12. An 18th pencil drawing of the stained glass window at Hall Hill, Abbots Bromley, Staffordshire, England, showing the Anglo-Saxon nobleman Wulfric Spot (died c.1004) (Wikimedia Commons, Public Domain).
Shortly thereafter, the Saxon "Ælfwold, Bishop of Crediton, in 1012, bequeathed 'to every man of my household his mount which I have leant him… Aelfwold also left a stud of 'wild horses' running on the Buckland estates near Dartmoor, besides ten individual bequests of saddle-horses, and to his lord the heriot of four horses with armour…" (ibid). In the Domesday Book from 1086, held at the Exeter cathedral, in the owned property survey of the UK conducted for William the Conqueror to calculate tax, the wild ponies are discussed, but there was some uncertainty if they should be taxed at all due to the fact that they were semi-wild, but owned herds and the right to graze them on Dartmoor was already in place. Clearly there would have been an awareness of the herds by the those producing horses for medieval cavalries, as well as the rulers themselves.
Henry VII directed the improvement of native stock for his warhorse retinue in 1535, requiring by law that mares should be bred with stallions that were 14 hands or greater, or the owner be fined 40 shillings. His disparaging remarks deemed the ponies of Dartmoor 'little horses and nags of a small stature' and a 'vile and paltry breed'." However, given the remoteness of Dartmoor, Henry's policies were likely not enforced. By the 16th century, ponies of all colours and sizes were recorded.
The ponies were used extensively use as pack horses, and in the tin mines, as well as an "all-rounder" for riding and driving. In 1855, polo came to Britain from India significantly affecting pony breeding. By the 1860s, under the influence of the Prince of Wales, systematic efforts were undertaken to 'improve' ponies from the Dartmoor herds with outcrossing with Thoroughbreds Arabians, Hackneys, Welsh, and Fell horses to produce an ideal sport pony. Dartmoor ponies were foundational to the formation of the Polo Pony Stud Book in 1899 (Fig. 13). A famous polo pony named "The Leat" was purchased by Miss Calmady Hamlyn in 1925, the by an Arabian stallion, out of a Dartmoor pony x Hackney mare (Friends of the Dartmoor Hill Pony). "The Leat" was the first pedigree Dartmoor Pony (Hendricks 2007). In 1899, The Dartmoor Stud Book was started as a section of the Polo Pony Stud Book, becoming a separate entity in 1925 for registered Dartmoor Ponies.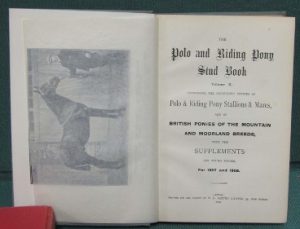 Figure 13. The Polo Pony Stud Book, made possible by the Dartmoor Ponies.
Dartmoor ponies continued to live semi-wild on the moor at the same time, refusing efforts to conform with the fashionable breeding of the early 20th century. They remain genetically distinct from their registered counterparts, with key signatures that can be used to distinguish them, as well as signs of genetic selection potentially linked to environmental adaptation (Hegarty et al. 2017). Now preserved for their heritage value, as well as their key contribution to biodiversity, the Dartmoor ponies continue to provide enjoyment on and off the moors, through their use in riding and driving, as companions, or as conservation grazers.
The story of the Dartmoor ponies is the story of horses in England. In them we see the relationships of horses and people to the land and place, the negotiations of commoners with, and resistance to, people in power, the centuries long traditions of families working together in local practices of breeding and management, and the recognition of the vital place of the Dartmoor ponies in the past, present, and future of Dartmoor and its people.
References
Ameen, C., Benkert, H., Fraser, T., Gordon, R., Holmes, M., Johnson, W., Lauritsen, M., Maltby, M., Rapp, K., Townend, T., Baker, G. P., Jones, L. M., Vo Van Qui, C., Webley, R., Liddiard, R., Sykes, N., Creighton, O. H., Thomas, R., & Outram, A. K. 2021. In search of the 'great horse': A zooarchaeological assessment of horses from England (AD 300–1650). International Journal of Osteoarchaeology, 1– 11. https://doi.org/10.1002/oa.3038
Bendrey, Robin. 2012. From wild horses to domestic horses: a European perspective. World Archaeology 44(1):135-157.
Dent, A.A., and Daphne Machin Goodall. 1968. A History of British Native Ponies: From the Bronze Age to the Present Day. London: J.A. Allen.
Green, Peter. 2016. The free-living ponies within the Exmoor National Park: their status, welfare and future. A Report to the Exmoor Moorland Landscape Partnership.
Hegarty, Matt, Nicola McElhinney, Emily Ham, Charly Morgan, Clare Winton and Rob McMahon. 2017. An evaluation of the genetic relationships between the Hill Dartmoor and the registered Dartmoor Pony Breed. Report prepared for the Friends of the Dartmoor Hill Pony. Aberystwyth University.
Hendricks, Bonnie. L. 2007. International Encyclopedia of Horse Breeds. Norman, OK: University of Oklahoma Press.
Packham, Chris. 2020. A Keystone Species: The Dartmoor Hill Pony. Springwatch. Photos from: Bronze Age Hoofprints © Ossiie Palmer; Ponies at Bronze Age settlement © Charlotte Faulkner.
Trew, Cecil G. 1953. The horse through the ages. London: Methuen.