At the end of February, Prof. Alan Outram and Helene Benkert had the honour of meeting one of the formidable Destriers of the Royal Collection. Copper, a lovely chestnut mare, used to serve as a jousting horse at the Royal Armouries in Leeds and starred in many cinematic productions during her time. She is now enjoying her well-earned retirement near York, under the loving care of Matt Cooper.
We went north to visit them to use Copper as a guinea-pig for our studies of horse morphology. She graciously endured her role and kindly accepted mints as payment.
First, Matt discussed the various aspects of conformation that a horse should sport in order to be suitable for jousting. We then armed ourselves with tape measures and began putting numbers to the features Matt had pointed out. Though Copper was a little sceptical of our tools at first, she allowed us to continue so long as she had hay to munch in the meantime.
Copper has her own full set of armour which she very patiently donned once again for us to inspect and admire. She certainly looked dashing, though perhaps a bit unhappy.
Putting on all the different bits of armour followed a meticulous protocol and took quite a bit of time, but it helped to understand how all the parts work together and in relationship with the horse. Seeing her move with her metal shell, the impact full armour had on the horses' movements became clear. Though she was not hindered in her mobility, she walked differently to counterbalance the weight. When working in the armour, she would have had to balance the rider's weight and movements as well, highlighting the achievement of an excellent warhorse.
Our particular interest was on her shaffron and how its measurements would translate to her head. It turned out that it is rather complicated to find the corresponding measurements on both shaffron and head in a way that is reproduceable.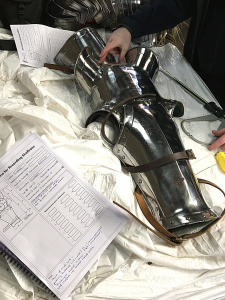 Her measurements will be used to understand the relationship between armour, horse, and skeleton. In the absence of actual horses in the archaeological record, we rely on such modern references to draw conclusions from the materials that we do have available: the bones and the armour. Copper will help us to better understand and interpret this data.
We are very grateful to Matt and Copper for their patience and willingness to help and, of course, their valuable insight into the working side of a medieval jousting horse.