Helene Benkert, a doctoral student studying at the University of Exeter as part of the Warhorse project, went on a fact-finding mission to the Royal Armouries to experience their world-famous Easter jousting event. In future years the project hopes to develop display materials that can help engage with members of the public at these events.
Helene writes:
The International Jousting Competition at the Royal Armouries in Leeds is a huge event. Even in our modern times, jousting can still draw a big crowd. It wasn't any different back in the medieval period.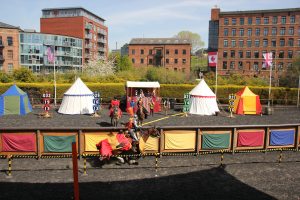 Perhaps a little like football matches today, nobility would come together to ride, fight and cheer. Those knights successful enough would be celebrated like stars. Often enough, however, a career was ended prematurely through serious injuries or even death of the combatant, and attrition rates for horses were notoriously high.
Tournaments emerged in eleventh and twelfth centuries as a way to train for war and pass time between battles and campaigns. Soon they developed into the biggest sports events for nobles and a stage to show off skill as much as wealth and status.
The joust, where two knights on their valuable warhorses would charge at each other with lances, is the most widely known part of these competitions. Horses, of course, were an integral part of these tournaments.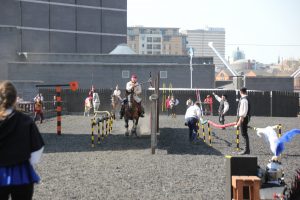 The horses competing with their "knights" at the Royal Armouries in 2019 are sporting their owner's colours and shiny metal chaffrons are protecting their heads. They pick up on the excitement of the audience and reenactors around them, ears pricked and prancing about the arena.
These are stunt horses – professionals – from Atkinson Action Horses, and they are used to all sorts of noise and racket. They are highly trained, just like medieval war and tournament horses had to be excellently trained to ensure their riders' safety and, of course, victory. The horses were and are the real stars, directed by the knight in the saddle.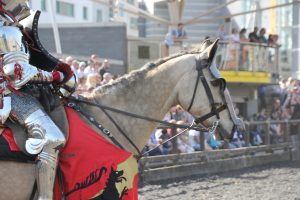 Back in the Middle Ages, a destrier or charger would have been the best bred and trained horse on the market and sold for exorbitant prices only the very rich could afford. Bigger than normal working horses, these were swift, fierce and strong stallions, clad in silver armour.
They certainly are impressive to watch in the tilt yard of the Royal Armouries as they gallop towards each other in the bright colours of their owner's house. It is easy to imagine people enjoying this kind of entertainment so many centuries ago as the modern crowd cheers for their favourites.
Next year we will be back, with lots of facts and fun on and around medieval horses. So come and join us for talks, activities, crafts or a chat.